Boyfriends. is a Slice of Life Webtoon Original created by refrainbow; it used to update every Tuesday and Friday, but it is currently on hiatus since its 100th episode was its first Season Finale. refrainbow is currently working on Season 2.
Synopsis
A comic about getting yourself a boyfriend... or multiple boyfriends! Four college students begin a polyamorous relationship and navigate the adventure that is their dating life!
Characters
Goth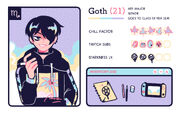 Goth is a 21 year old transgender man. He's a lover of dark-colored clothing and the typical goth aesthetic. He is shown to like playing video games in his free time. Goth is a smoker. He started dating Nerd first in the webtoon, before starting a relationship with Prep and Jock as well.
Nerd
Nerd is a 19 year old pansexual man, and is taking a double major in maths and astronomy in his first year of college. This is shown to be stressful for him at times, and he relies on the support of his boyfriends to get him through. Nerd likes K-pop idols, which helps him kindle his relationship with Jock. They learn dances and go to concerts of their favorite performers together. He also spends a lot of time playing video games and watching anime with Goth when they first start dating. Nerd regularly changes his hair colour and is also the shortest of the group. In a patreon post, it has been confirmed Nerd is not a virgin.
Prep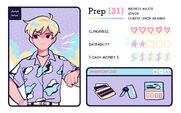 Prep is a 21 year old gay senior, a business major, and part of the student union. He's reasonably well off money wise, but still likes Goth to pay for his things. He is Goth's tidy roommate and is shown to have had numerous flings with him. The two were relatively physical but he never realized said Goth liked him as more than friends-with-benefits. Prep starts off dating Jock, who he was extremely awkward with at the start. Both him and Jock then start dating Nerd and Goth.
Jock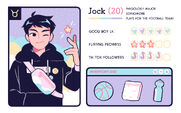 Jock is a 20 year old bisexual sophomore. He's a physiology major and plays on the college's football team. He is also a good cook.
Episodes
Last updated on January 25th, 2022
Ep.1
Ep.2
Ep.3
Ep.4
Ep.5
Ep.6
Ep.7
Ep.8
Ep.9
Ep.10
Ep.11
Ep.12
Ep.13
Ep.14
Ep.15
Ep.16
Ep.17
Ep.18
Ep.19
Ep.20
Ep.21
Ep.22
Ep.23
Ep.24
Ep.25
Ep.26
Ep.27
Ep.28
Ep.29
Ep.30
Ep.31
Ep.32
Ep.33
Ep.34
Ep.35
Ep.36
Ep.37
Ep.38
Ep.39
Ep.40
Ep.41
Ep.42
Ep.43
Ep.44
Ep.45
Ep.46
Ep.47
Ep.48
Ep.49
Ep.50
Ep.51
Ep.52
Ep.53
Ep.54
Ep.55
Ep.56
Ep.57
Ep.58
Ep.59
Ep.60
Ep.61
Ep.62
Ep.63
Ep.64
Ep.65
Ep.66
Ep.67
Ep.68
Ep.69
Ep.70
Ep.71
Ep.72
Ep.73
Ep.74
Ep.75
Ep.76
Ep.77
Ep.78
Ep.79
Ep.80
Ep.81
Ep.82
Ep.83
Ep.84
Ep.85
Ep.86
Ep.87
Ep.88
Ep.89
Ep.90
Ep.91
Ep.92
Ep.93 (Fast Pass)
Ep.94 (Fast Pass)
Ep.95 (Fast Pass)
Ep.96 (Fast Pass)
Ep.97 (Fast Pass)
Ep.98 (Fast Pass)
Ep.99 (Fast Pass)
Ep.100 (Fast Pass)